Our next concert is on Saturday evening 13 October 2018, 8.15 pm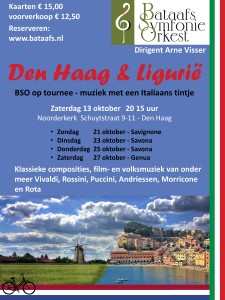 In the Noorderkerk you can enjoy an Italian programme, that we will perform before we start our tour in Liguria, Italy.
Tickets including programme and drink € 12.50 in pre-sale and € 15.00 at the entrance.
Reservations by email to info@bataafs.nl
Please indicate how many tickets you require and under which name.
Also keep an eye on our BSO Facebook page for more news.